Classes|1960 & 1961|
Homewood-Flossmoor
High School
---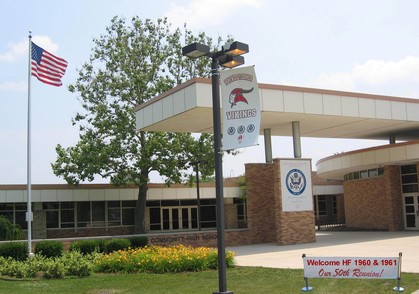 Welcome to the Homewood-Flossmoor 1960-1961 Class Web Site. Click Here for Instructions
---
Homewood-Flossmoor grad leading
prosecution in Manafort trial one of many high
achieving alumni
By Donna Vickroy
Daily Southtown
AUGUST 14, 2018, 1:20 PM
f the south suburbs seem a long way from the federal courthouse of Alexandria, Va., consider that other
Homewood-Flossmoor High School graduates have gone on to make their mark in South Sudan and
the Czech Republic.
Like them, before Uzodinma (Uzo) Asonye became a powerhouse attorney and lead prosecutor in the Paul
Manafort trial, he spent his teen years walking the halls of the Kedzie Avenue high school in Flossmoor.
While there, the 1998 graduate also played in the marching band, the symphonic band, the Viking ensemble
and was a member of the National Honor Society, said Ann Cherry, director of development and alumni
relations at H-F. Born in Nigeria, he grew up in Flossmoor with his a younger sister, Chidinma, who
graduated H-F in 2000.
From the south suburbs, Asonye went on to Cornell University and then Yale Law School, Cherry said. He
worked as an associate in the white collar defense and corporate investigations unit with the law firm of
O'Melveny & Myers, LLP of Washington, D.C., before becoming deputy chief, financial crimes and public
corruption unit, assistant United States Attorney, Cherry said.
The Manafort case, in which President Donald Trump's former campaign manager is being tried on charges
of tax evasion and fraud, was headed to closing arguments Tuesday after the prosecution rested Monday
and the defense opted not to call witnesses.
Were H-F officials surprised to learn that one of their own had landed such a prestigious role in the high
profile trial?
"Not at all," Cherry said.
"At one time a couple years ago, we had two standing United States ambassadors that were both graduates
of H-F. And we had the former United States deputy of the Treasury, who was second in command at the
Treasury, the highest-ranking female in the history of (that) department," she said. "They were under the
Obama administration."
Andy Schapiro, class of '81, went to Yale and Harvard Law School before serving as U.S. ambassador to the
Czech Republic, Cherry said.
Susan D. Page, class of '82, served as U.S. ambassador to South Sudan, the world's newest country. Cherry
said the University of Michigan and Harvard graduate now works as the United Nations secretary general's
special adviser on rule of law .
And there's Sarah Bloom Raskin, class of '79. She served as the U.S. deputy secretary of the Treasury. She
was also on the board of governors of the Federal Reserve, Cherry said.
"H-F has always been strong in economics," she said.
Then again, she added, the school, which opened in 1959 to alleviate crowding at Bloom High School
because of a growth spurt in the south suburbs, has also always been strong in broadcasting, fine arts,
mechanics, science and sports.
"We have tons of alums like Uzo," she said. "This school has always produced amazing grads and continues
to do so. So we're never really surprised. We're just like, 'Oh, yeah, OK'."
Cherry said H-F grads have gone on to excel in business and medicine, too.
Pulitzer Prize winner Jack Fuller, former president of the Tribune Company, attended the high school. The
former editor and publisher, who died in 2016, also had served as special assistant to U. S. Attorney General
Edward Levi.
"Another of our alums was one of the scientists who helped sequence DNA," she said.
"We would have a hard time coming up with a list of the Top 10 graduates," she added.
There have been so many high-achieving graduates, she said, that sometimes they've given new meaning to
the term "small world."
"There was an alum in Uzbekistan who ran into another alum there. Both were working for the state
department. They were a year apart but didn't know each other back at H-F," she said. "They met in a
receiving line."
Cherry attributes the history of successes to several things: high parental expectations, good teachers, good
feeder schools and lots of opportunity that includes things such as fine arts and industrial arts.
"If you look at this young man, Uzo was involved in all kinds of things. He was musical, in the marching
band, etc.," she said. "We find that kids excel when they have the opportunity to excel."
dvickroy@tribpub.com
Twitter @dvickroy
Copyright ©
---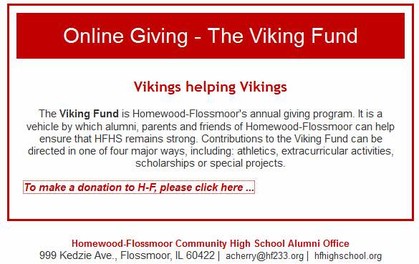 ---
---
---
---
---
---
Click on various "buttons" to the left (e.g. 1961 History to see some facts about our graduation year or Growing Up button to see some You Tube Videos of TV in the 50s, or Classmate Profilesto learn a little about our classmates who have signed in to the site. TheReunion Button will provide you information about the date, times, and locations of various reunion activities, and hotel and reservation information. To listen to 50s music while using our class site, click on the pop out button below and after the music loads and starts playing click back to the home page from the start bar below. You will want to deactivate the pop-out player however prior to viewing any of the You Tube videos.
For those of you who have already created a profile please remember to be sure and upload a recent picture of yourself and/or of yourself and your spouse to your profile page. Instructions for how to do this are located at the FAQ button on the left.
Please explore all the various buttons on the left of the screen to learn about your classmates, see pictures and listen to the songs of our times.

Remember that it is YOUR website and by YOUR ADDING CONTENT it will be more fun for everyone.

Enjoy and have fun with the www.61hf.com website!
DATA: Information provided on this web site is obtained on a "best efforts" basis and no one shall be held liable for any errors or omissions. To correct any data other than your own profile data, which you can update yourself, please go to the "Contact Us" button and send your comments to the web site adminstrator.
SECURITY: This web site is protected by a password so that all individual's data is confidential to only those with password access. No one who has access to this web site shall use any of the data for any commerical purposes.